Japanissa oli viikko sitten kaksi kertaa vuodessa järjestettävä Wonder Festival-tapahtuma (WonFes), jossa Japanin suurimmat figuvalmistajat käy esittelemässä uusimpia figuureja (myös pienoismalleja ja garage kittejä, eli itsekoottavia/-maalattavia figuureita) ja julkasemassa tulevaa "mallistoa". Eli toisin sanottuna, mun alkuvuoden kohokohta! XD Joku päivä mä vielä ajotan meijän japanin reissun niin, et pääsen ite paikanpäälle ihastelemaan ja fiilistelemään... (ʃƪ ˘ ³˘)
Tällä kertaa tarjonta oli tosi, tosi hyvä ja bongasin muutaman kivan lisän mun must buy-listaan. Ehehe. Tässä nyt muutamia poimintoja jotka kolahti ainakin muhun.
Wonder Festival (WonFes) which is a bi-annual event for figures, models and garage kits was held in Japan a week ago. The focus point is to display figure manufactorers new and upcoming line ups. So in other words, my highlight of the year thus far! XD One day I will time our Japan trip perfectly and go visit the event on the spot... (ʃƪ ˘ ³˘)
This time the figure lineup was great and I spotted a few new things to add to my must buy-list. Ehehe. So here's some of the upcoming cuties:
Yaaay!! Vihdoinkin ilmestyy lisää mun makuun sopivia bishoujo-sarjan figuja! Shunya Yamashita joka suunnittelee ja piirtää noi artit on mun lemppari piirtäjä ihan ehdottomasti! Sen tyyli on niin uskomattoman kaunis ja erikoinen! Mulla on ollu piiiitkään vaan kaksi bishoujo-sarjan figuuria (Alisa Bosconovich ja Commander Shepard) ja oon niin onnellinen, et nyt tulee lisää mielenkiintosia uutukaisia. Varsinki toi Freddy vs Jason on BADASS!! Tuskin maltan odottaa et niistä nähään sculptit! Pistin myöskin tilaukseen noi Love Live!-tyttöset (paitsi keskimmäisen) koska ne on liian upeita enkä pystyny lopulta hillitsemään itteäni... XD
Yaaay! More Bishoujo figures! The series illustrator, Shunya Yamashita, is one of my favourite artist! His style is incredible beautiful and of it's own kind! I've only had 2 figures from the Bishoujo-series (Alisa Bosconovich & Commander Shepard) for such a loooong time so I'm really happy to finally get new cuties to join the bunch! Especially that Freddy vs Jason... Damn, those bitches are BADASS!! I can't wait to see the sculpts! I also ordered two of those Love Live-girls (didn't want the middle one) because they are soooo gorgeus and I couldn't restrain myself after all... XD
..... koska Miku.

♥
.....because Miku.

♥

Enough said.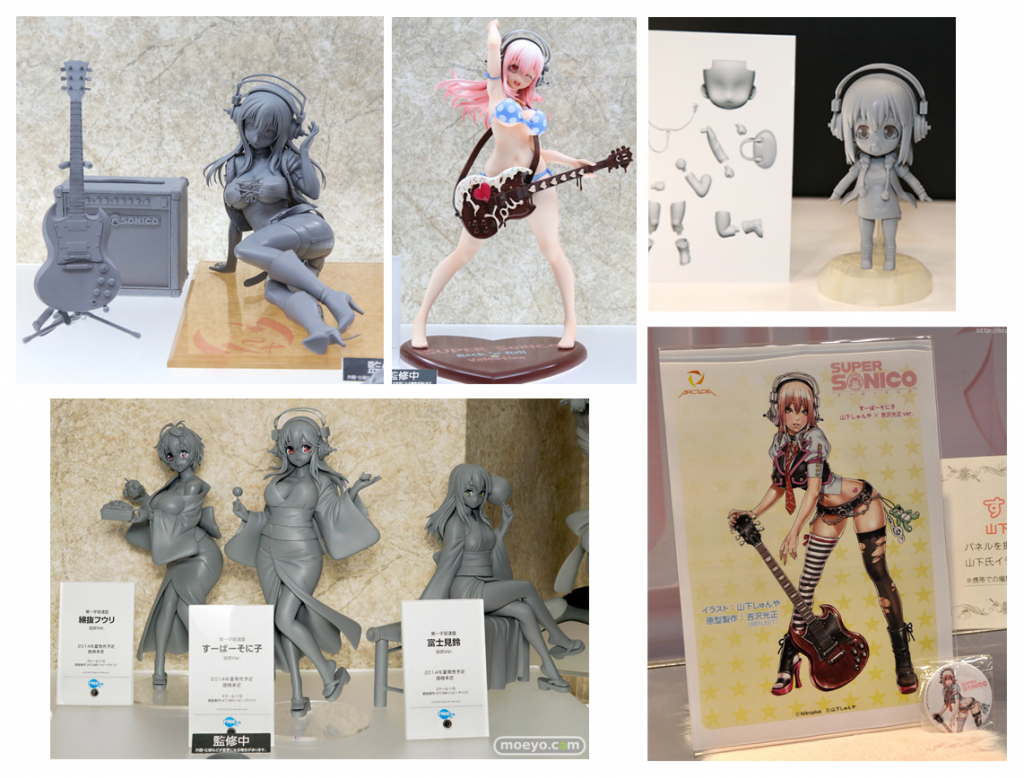 .....ja koska Sonico.

♥

JA VIHDOIN TOI SHUNYAN SONICO (oikea alanurkka) OLI TAAS ESILLÄ!! Sitä ei oo piiiiitkään aikaan näkyny missään ja kerkesin jo luopuu toivosta, ettei sitä ikinä tuu, mut siinä se nyt taas on!! Happyy ~ ! Odotan myös innolla minkälainen toi Griffon Enterprises-lafkan nendoroid-wannabe sarja tulee olemaan (oikea yläkulma). Sitä kutsutaan nimellä Nanoritchi VC ja ne figuurit toimii samalla periaatteella ku Nendoroidit tai Kotobukiyan Cu-Pochet, eli vaihtonaamat ja -kädet yms. löytyy. Lisäefektinä figuurin ständissä on nappula jota painamalla kuulee hahmon lauseita tms. ääntelyä. :D Ainakin Sonico näyttää tosi söpöltä!
....and because Sonico.

♥

FINALLY THEY BROUGHT BACK THAT SHUNYA'S SONICO (right down corner)! It's been a long time since they last showed it in any event so I started to lose hope about that one. But lucky me here it is again! Happyy ~ ! I'm also eager to see the Griffon Enterprises new nendoroid-wannabe series called

Nanoritchi VC. They are kinda like Nendoroids or Kotobukiya's Cu-Poches with changeable parts. The only difference is that Nano VC-figures also have a press to talk button in the stand so you can hear
memorable lines from your favourite characters! Well, Sonico looks super cute at least!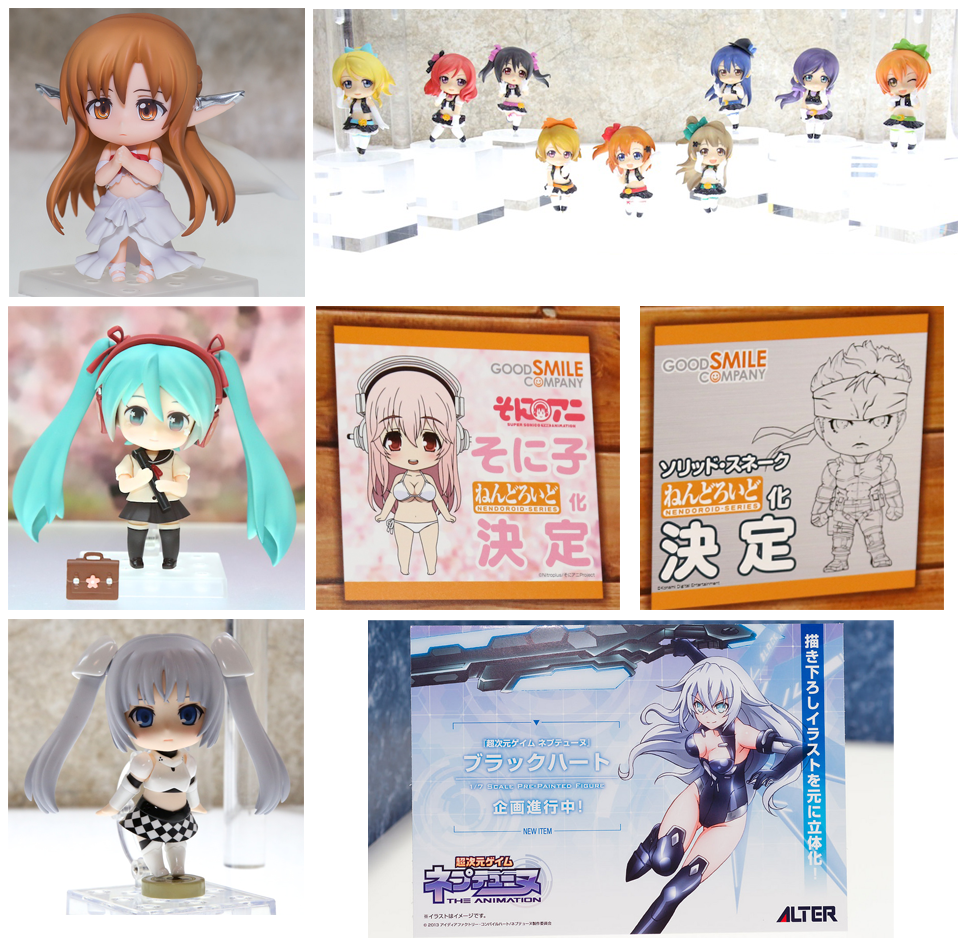 Ei olis kunnon figutapahtumaa ilman uusia nendoroideja! Ja nyt niitä oli tarjolla PALJON. Moni oli kyllä mulle ihan tuntemattomia hahmoja ni oli helppo valita ne itelle tärkeimmät. Ja toi Miku....... Se on taas vaihteeks erikoisnendo joka tulee Family Mart-kauppoihin arpajaispalkinnoksi. Eli kaupasta ostetaan arpoja ja jos käy hyvä tuuri, niin voi voittaa ton söpöliinin.. Eli joudun maksamaan tosta sit ihan perkuleesti ku sen joku vihdoin pistää nettiin myyntiin!!! Damn you Japan! >__< No mut Mikuista ei voi tinkiä... Täytyy alkaa käymään ahkerammin töissä!
Toi Black Heart (oikea alakulma) ei nyt ihan kuulu nendojen joukkoon, mut en löytäny sille parempaa paikkaa joten siihen se joutu. Kyseinen hahmo on Hyper Dimension Neptunia-pelisarjasta jossa juonena käytetään konsolisotaa ja jokaista pelikonsolia edustaa oma hahmonsa. Black Heart on tottakai PlayStation ja luonnollisesti mun lemppari! *fanboy* Siksi se on pakollinen lisä kokoelmiin. XD
Ja toi Solid Snake-nendoroidi.... WTF AND TAKE MY MONEY! XD
It wouldn't be a great figure event without new nendoroids!! And in WonFes there were MANY!! Most of the characters were unknown to me so it was easy to narrow down the most important ones. And OH_MY_GOD that Miku!! Once again it's a special nendoroid which can be obtained only by FamilyMart's lottery event. So to get her I need to pay a shit load of money when someone finally decides to sell his/hers. Damn you Japan!! (>__<)9 But... Miku is worth it. I need to start work more!
The figure on down right corner, called Black Heart, is a little bit out of place but oh well... XD She's a character from a video game called "Hyper Dimension Neptunia". The game's story revolves around console wars and every gaming console has it's own female "character/mascot". And it's not hard to guess which console Black Heart represents. ;D Yup.... She's PlayStation and therefore my favourite of the girls! *fanboy* That's why she's a must have to my collection as well!
And about that Solid Snake-nendoroid.... WTF AND TAKE MY MONEY! XD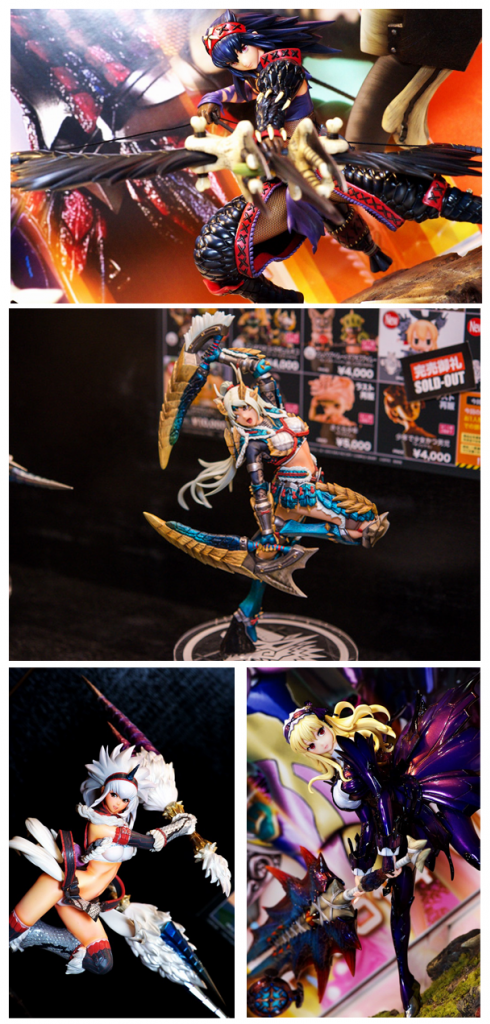 Sitten viimesenä nää mun salaiset unelmat... Eli garage kitit. Eli ite kasattavat ja maalattavat figut. Mä kuolaan vuodesta toiseen noiden Monster Hunter-kittien perään, mutku oon uusavuton enkä todellakaan osaa maalata ni nää on vaan jääny ikuisiksi haaveiksi. Monster Hunter on mun elämä ja siks itken verta ku nään, et siitä tulee aina vaan garage kit-figuureja... Noh, ehkä joku päivä vielä tilaan jonku koekappaleen ja kokeilen kepillä jäätä! XD

And last but not least, my secret dreams... The garage kits! These nice little figures you have to assemble and paint yourself. Year by year I drool after these INCREDIBLE Monster Hunter-kits but since I'm such a namby-pamby when it comes to painting, I haven't order any. Monster Hunter is my life and that's why I cry my eyes out every time I see these model kits... Well, maybe some day I'll have the courage to actually buy one and ruin it! XD
WonFestin kunniaksi tämä erikois neitokainen meni ennakkotilaukseen! Kesää odotellessa.... Huhuhu.

♥
I just pre-ordered this exclusive cutie!! Can't wait 'till summer... Huhuhu.

♥