Hellurei~!!
Viime aikoina on ollu niin sietämättömän kuuma, etten oo jaksanu edes valokuvata mitään! Eikä siinä mitään, et on lämmintä mut tää jatkuva hikoilu.... Kuolen! =___= Eikä asiaa helpota, et meijän kämpässä on kuumempi ku ulkona! Ah, kuinka odotankaan Japanin ilmastoitua hotellihuonetta ja julkisia kulkuneuvoja ja ylipäänsä kaikkia sisätiloja!
Huomasin, et mulle on myöskin tullut lisää lukijoita mikä saa tietysti aina hyvälle tuulelle! Kiitokset ja terveuloa uusille lukijoille ~ !! <3 Vielä kun pääsisi siihen täyteen 100 lukijaan niin pitäisin Giveawayn! Oon aina halunnu päästä järkkäämään sellasta ja mun mielestä 100 lukijaa olis siihen täydellinen syy! Peukut pystyyn!
Anyhow, olihan mulla taas tällanen turha syykin postailla. Aikani kuluks alotin nimittäin tekemään pienehköä ostoslistaa siitä, mitä kaikkea olis tarkotus sieltä otakujen paratiisista ettiä. Tällä reissulla keskityn ensimmäistä kertaa myös nukkeihin ja tuskin maltan odottaa mitä kaikkea niille löytyy!
Howdy~!!
The weather on these past few weeks has been so unbearable hot that I haven't even been able to take any photos! I don't mind the heat but all this sweating is making me nuts! =___= And the fact that our apartments temperature is higher than outside isn't helping at all! Oh how I wait for the air conditioned hotel room and public transportation and every single interiors they have in Japan!

I also noticed that my blog have new followers and it always makes my day! Thank you and welcome to everyone ~ !! <3 I hope that one day I will have the full 100 followers so I could host a give away! I've always wanted to do one and what would be better occasion than to celebrate 100 followers! Hopefully this will come true in the near future!

Then to the main reason of this post! The other day when I got nothing to do, I started to write a small shopping list to what to look for while visiting the otaku's paradise. This time I'm also focusing on dolls for the first time ever and I can't wait to see what I'll find for them!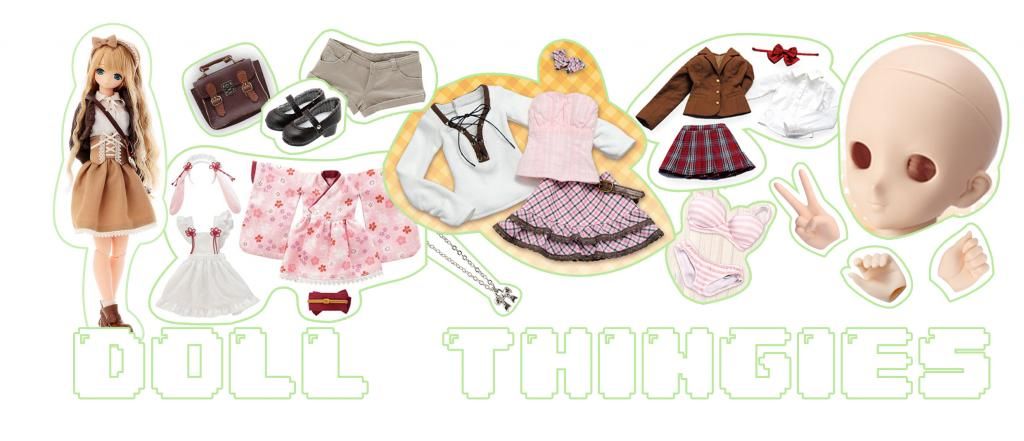 Siinä nyt suurin piirtein ne tärkeimmät, huhuhu. Koitan pitää nendoroidi-luvun tällä kertaa hieman pienempänä ja etin vaan niitä tärkeimpiä, mut saas nähä... XD Myöskin Dollfie Dreamien vaihto-osia yms. täytyy nyt hamstrata, kun pystyy välttämään tullimaksut! Aion myöskin ostaa tyhjän pään ja kokeilla ensimmäistä kertaa ikinä tehä oman face upin... Tiedän, et se projekti on jo tuhoon tuomittu, mut en oo valmis hyväksymään sitä faktaa ennen kun oon edes kokeillu omatekosen lärvin maalaamista! *päättäväinen* Lupaan myös tehä postauksen siitä katastrofista sitten kun sen aika koittaa niin muutkin voi naureskella mun yrityksille! XD
Nyt täytyy mennä jatkamaan Nisekoin kattomista! o/ Ottakaahan tästä vähän iltajytää torstain kunniaks:
So there are the main things I'll be looking, huhuhu. I try not to buy so many nendoroids this time but we'll see how that goes... XD I also have to hoard as many Dollfie Dream option parts as possible since I can avoid the customs that way! As you may have noticed, there's also a blank dd-head on my shopping list... It means I'll try to do a face up for it by myself. I know that this whole project is already doomed considering my skills, but I refuse to give up until I've tried it at least once! *determined* I promise to write about it in here as well after I'm done with the disaster. Then we can all laugh at my failed attempt! XD

Okay, now I have to go to continue watching Nisekoi! o/ Here's some music to brighten your day: