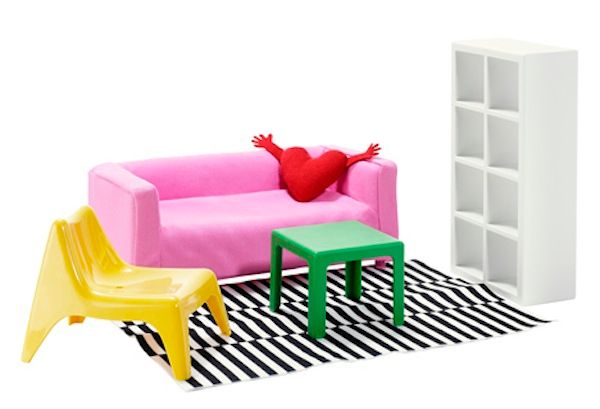 Good evening everyone!
Lähettiin eilen miehen kanssa Ikeaan hakemaan mulle lasten lelu-huonekalusettiä.... Olin nimittäin jo jonkin aikaa muiden blogeista ja flickr:stä kyyläilly tätä kyseistä settiä enkä lopulta pystyny enää vastustaa. Sellanen oli saatava! Ja tarttuhan sieltä Ikeasta vaikka mitä muuta turhaa mukaan myöskin... Kuten väliaikanen loota nukkejen vaatteille. Huhuhu.
We went to IKEA yesterday to buy a childrens toy-furniture set for me.... This particular toyset seem to pop up everywhere in flickr and other blogs so finally I decided to get one too! And ofcourse while in Ikea, we bought all kinds of unnecessary things too... Like a temporary holder for my doll clothes. Huhuhu.
En kuitenkaan lämmenny yhtään ton huonekalusetin keltaselle penkille tai vihreelle pöydälle ja vihdoin tuli meijän häiden ajoilta ostetut spray-maalit hyötykäyttöön! Ja onneks väritkin oli just täydelliset mun makuun! Kävin parvekkeella suihkimassa uudet värit huonekalujen pintaan ja vaikka ite sanonkin, niin niistä tuli kyllä aikas täydelliset. Everything's coming up Milhouse!
I didn't like the yellow chair or green table at all so I decided to put the spray-paints, that we bought for our wedding decorations like 2 years ago, to a good use! Luckily the colors were absolutely perfect for my taste too! And the result was great if I may say so myself!
Everything's coming up Milhouse!
Ja kun kerran olin päässy tuunailun makuun, päätin myös alkaa väkertämään mini-mangapokkareita mun tytöille (ja nendoroideille). Miks kaikki mini-kokonen on aina niin söpöä!! Kyllä multa pääs muutamaan otteeseen parit kyaah-äännähdykset kun kattelin valmiita Yotsuba-minipokkareita. XD
And while at it, I also decided to make mini-mangabooks for my girls (and nendoroids too). I wonder why everything is so much cuter when in miniature size?! I have to admit that few kyaaah-sounds were heard while I admired the finished Yotsuba-mangas. XD
And finally some pictures:
Dat face! (´▽`ʃƪ)♡


Serara trying to resist all the sweets....


...aaand Tobako reading Yotsuba&!


Close up of the bookcase!
Tänään saapui myös tytöille uusia vaatteita ja vihdoin jotain muuta muovista kivaa josta tulee sitten juttua enemmän seuraavalla kerralla kunhan sen kaveri saapuu tullista. XD
I also got a new clothes for my girls and something else plasticy. I'll write about it more next time when it's partner gets through customs! XD
Here's a sneak peek:
EXTRA:
Ja näin tapahtuu aina kun jätän tytöt yksinään Paten kanssa...:
Here's what happens when I leave my girls alone with my hubby...:
Woody in heaven!