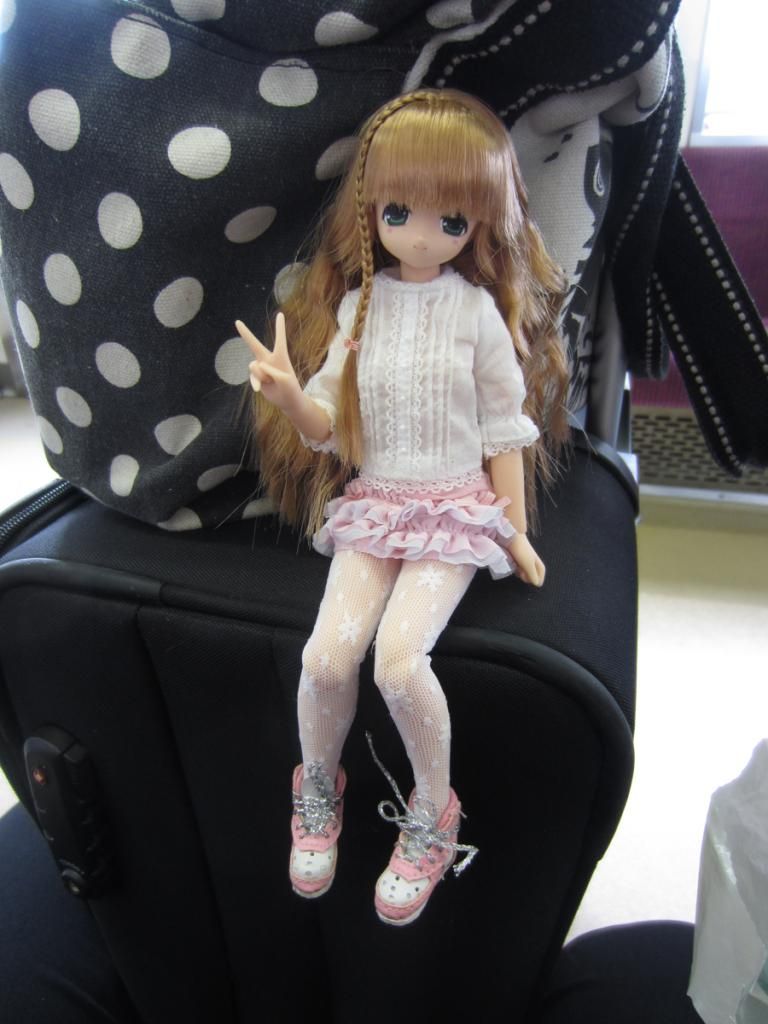 Terveiset kuumasta ja hiostavasta Tokiosta!
En voi käsittää, et nyt on vasta kolmas päivä meneillään ku tuntuu et oltais oltu täällä ainaski jo yli viikko! :D Hotelli on tosi kiva ja KÄVELYMATKAN päässä meijän taivaasta, eli Akihabarasta! Ensimmäisenä iltana pikku päikkäreiden jälkeen suunnistettiinkin saman tien kohti Akiban arcadeita. Ja kuinkas ollakaan Japanissa on just tällä hetkellä Love Live! School Idol Project kuuminta hottia ja minähän sinkoilen into pinkeenä arcade-hallista toiseen ettimässä lisää turhaa LL-roinaa UFO-catchereistä. XD
Greetings from a hot and humid Tokyo!
It's hard to believe that we've only been here for two whole days although it feels more like a week!! :D Our hotel is really nice and it's within walking distance from our personal heaven a.k.a Akihabara! First night after a little nap, we headed straight to Akiba's arcades. And wouldn't you know that the hottest new thingh in Japan right now is Love Live! School Idol Project! Yay, lucky me! I'm running like a crazy person from one arcade to another just to find more unnecessary LL-stuff to win from UFO-catchers. XD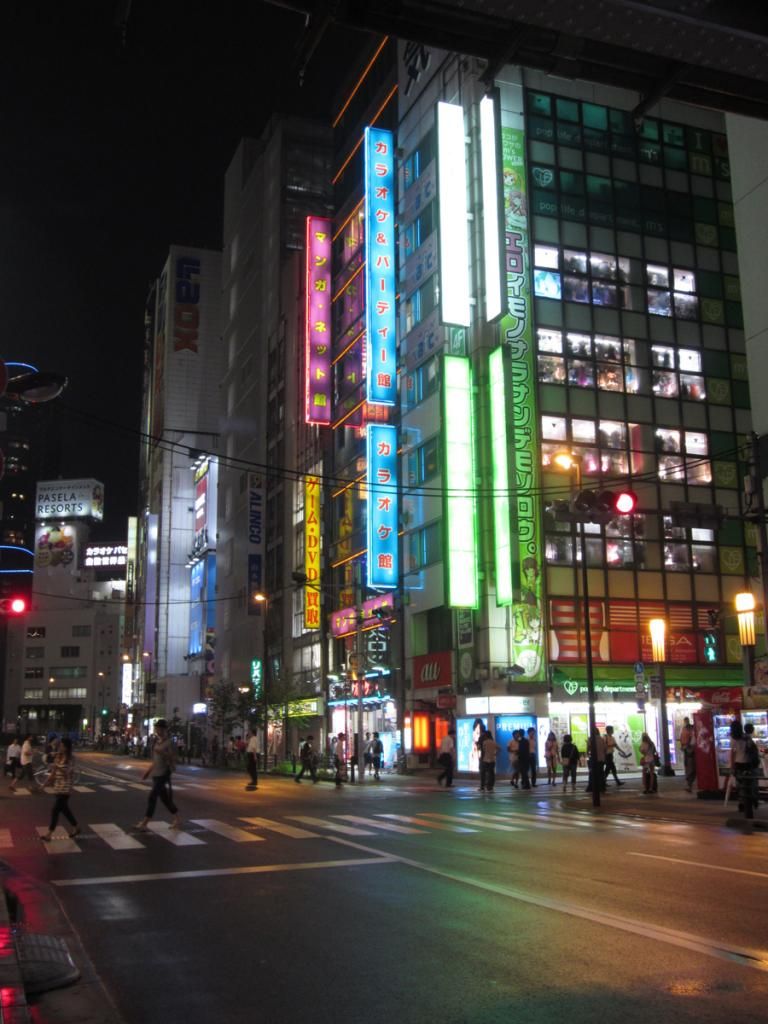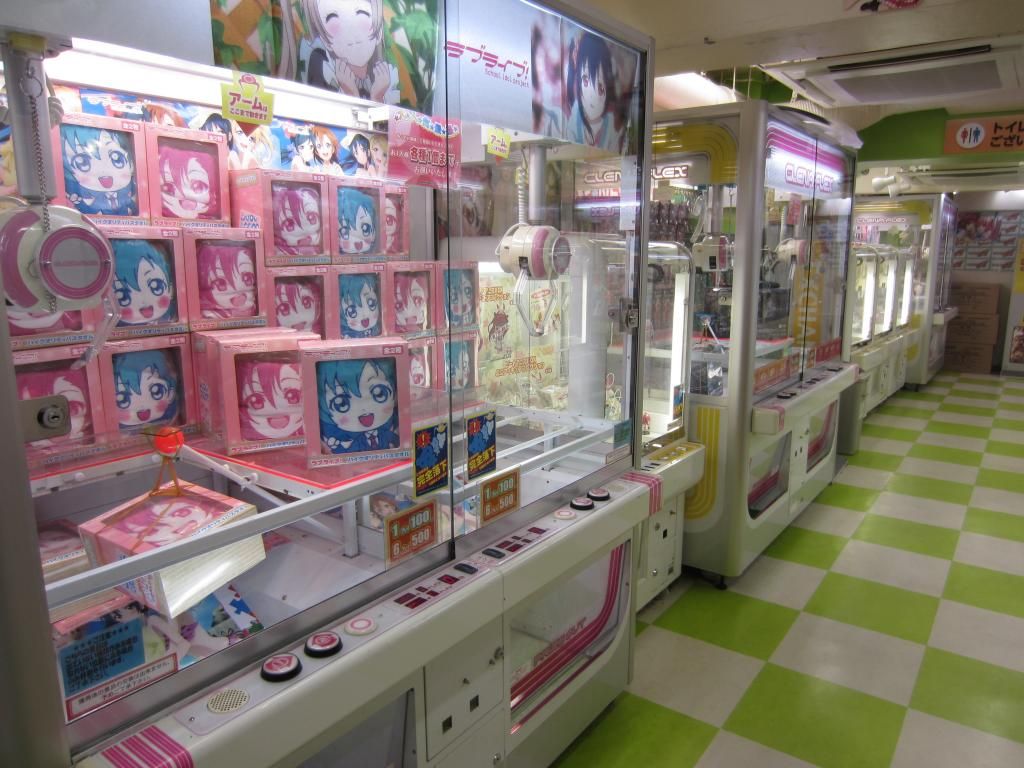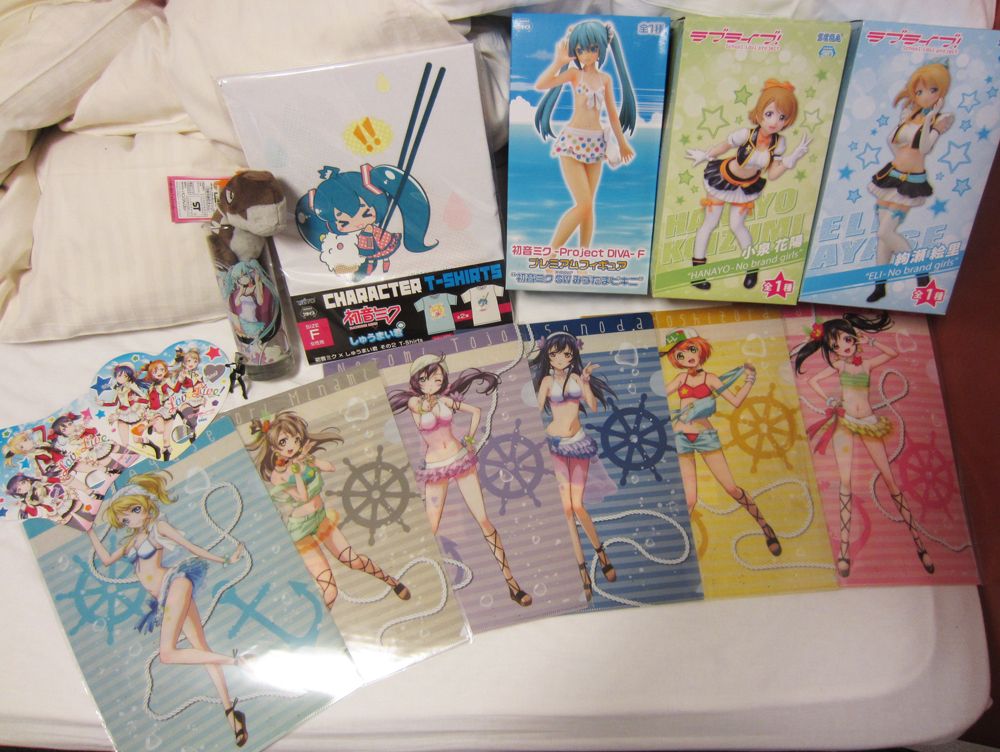 First day UFO-catcher prizes! Huhuhu!
Perjantaina lähettiin Ikebukuroon jossa piti tehä vaan pikanen visiitti, mut tulihan siellä pyörittyä melkein koko päivä. Löysin sattumalta joltain pikku sivukujalta Closet child-nimisen lolitavaatekaupan josta olin netissä lukenu, et siellä on myös pieni osio nuken vaatteille. Ja tarttuhan sieltä neemoille pari käytettyä vaatetta halvalla mukaan!
On Friday we went to Ikebukuro. It was supposed to be just a quick visit but we ended up spending almost the whole day there! We accidentally came across this lolita clothing shop called "Closet Child" that has a small section for doll clothing. I found few cheap and used clothes for my pure neemos so it was worth the trip!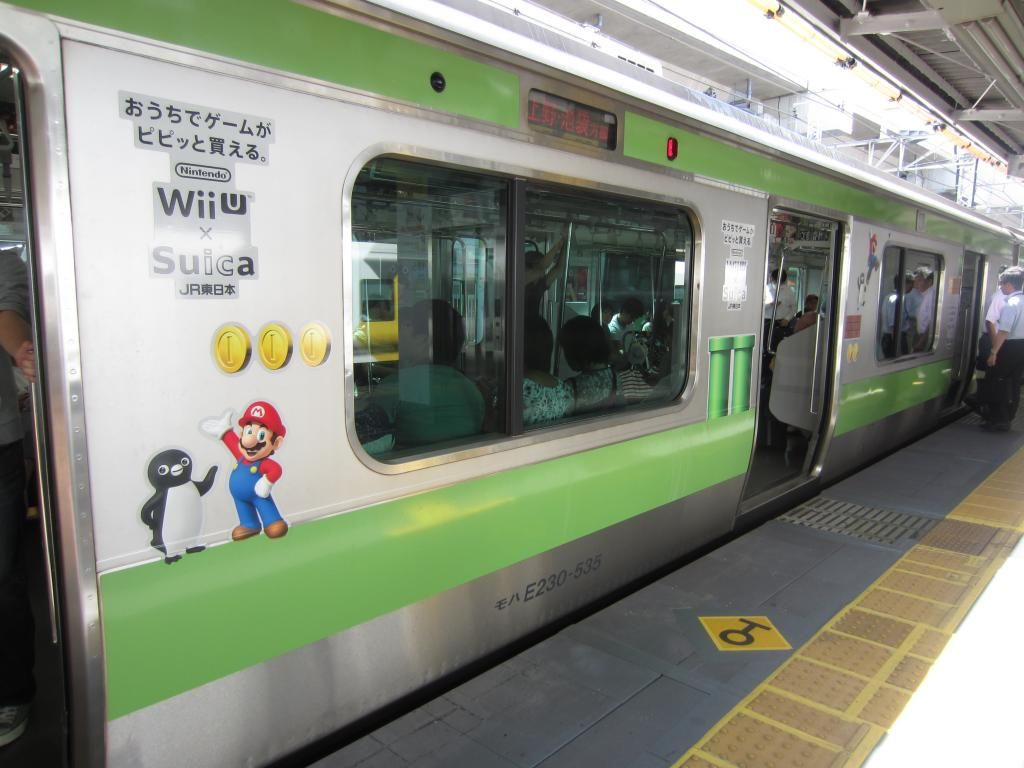 Even trains are more cooler in Japan!!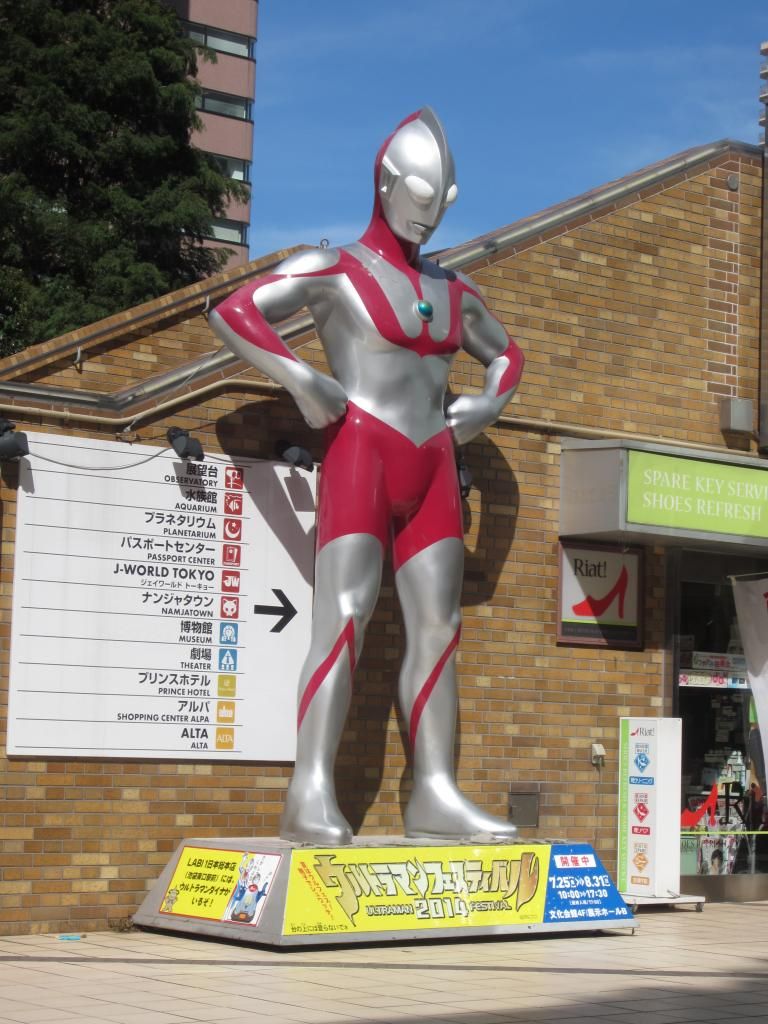 Ikebukuron Otome Roadilla shoppailtiin, tai lähinnä minä shoppailin, pari uutta figua mut muuten ei kauheen kauaa siellä pyöritty kun animepojat ei oo ihan se meijän juttu (kuten arvata saattaa!) ja Otome Road on basically pyhitetty niille! XD Käytiin ihmettelemässä ja kuvailemassa Kaskaita (....Cicada, anyone?) ja Pate taas oli siellä noukkimassa kuolleita kaskaksia/kaskaita (miten toi taipuu?!?) ja tuomassa kotiin... Onneks sain ympäripuhuttua sen jättämään ne raadot sinne muille elukoille syötäväks. Hyyyiii!! Illalla käytiin vielä pyörähtämässä Akihabarassa syömässä ja pelailemassa. Voitettiin UFO-catcherista meille japanilainen versio Kumasta ja nimettiin se japanilaisittain Kuma-inuksi. Ollaanpas me viisaita! XD
After that we went to Ikebukuro's Otome Road to shop few new figures. It was just a quick visit since Otome Road is meant for girls, so 98% of the stuff there is about animeboys and we're not quite into that (as you might've guess). XD We also got to see many cicadas in a small park next to Otome Road and Pat was (again!!) trying to take one dead cicada home with him! Luckily I persuaded him to leave all the dead ones be and let nature handle with them... Ewwwhh! In the evening we went to visit Akiba again to have some a dinner and play more games. We won a dog plushie from UFO-catchers and it looks like a japanese version of our dog (Kuma) and shiba-inu so we named it Kuma-inu. Aren't we clever! XD
Meet Cell Jr.!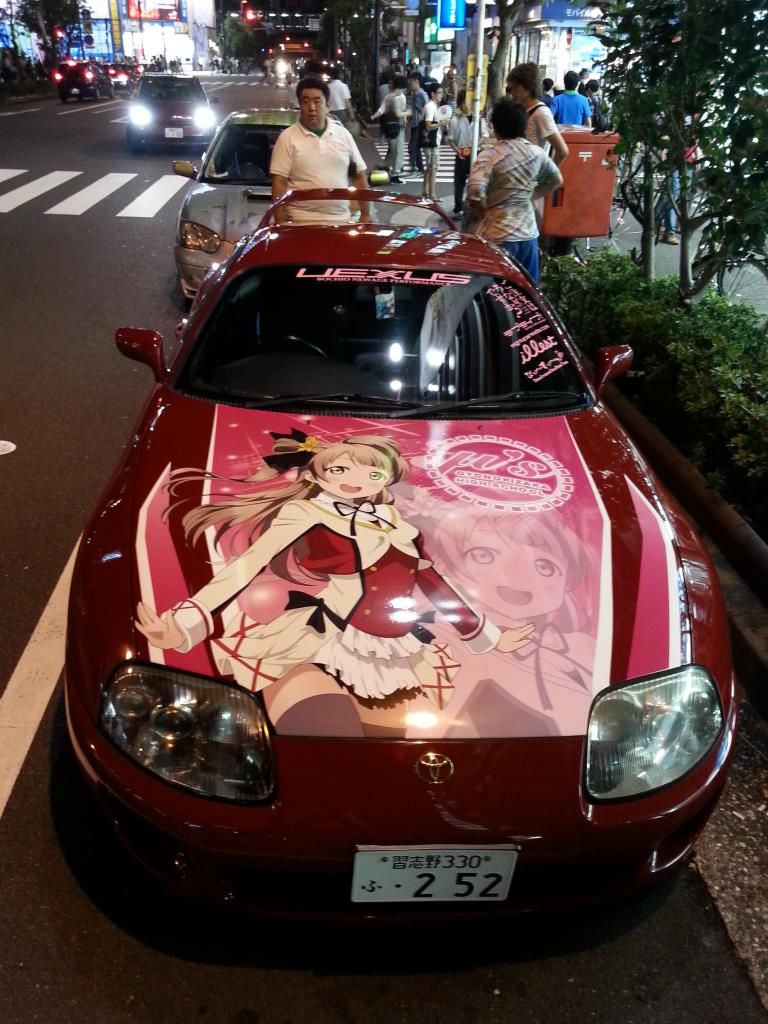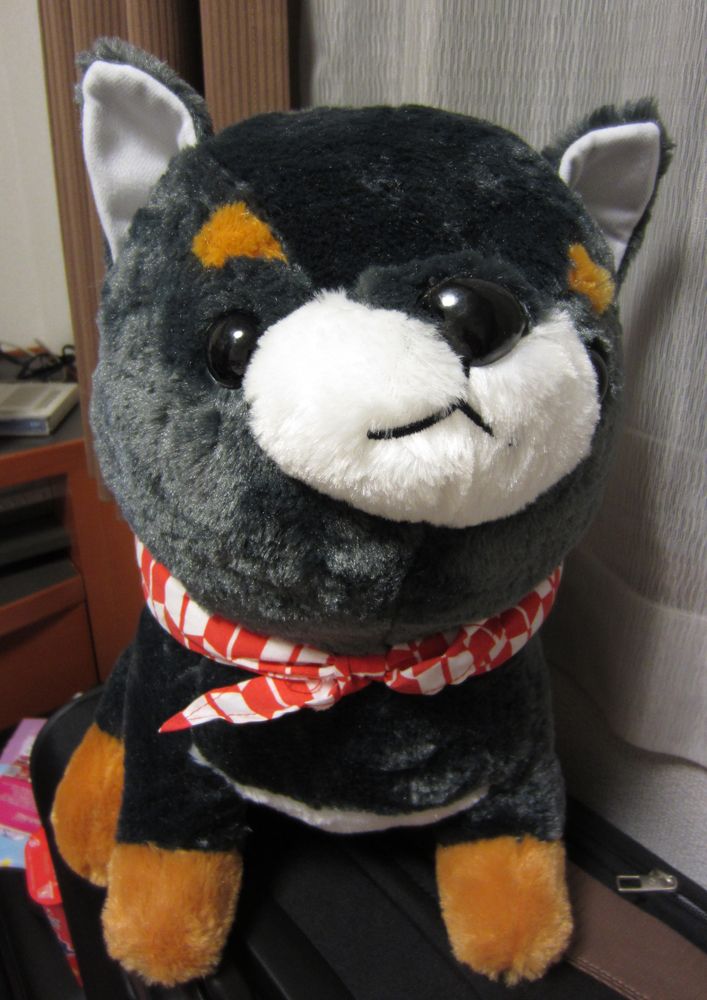 Kuma-inu wishes you all a good night!!